Workshop: Global Infrastructures: The Production of the Modern World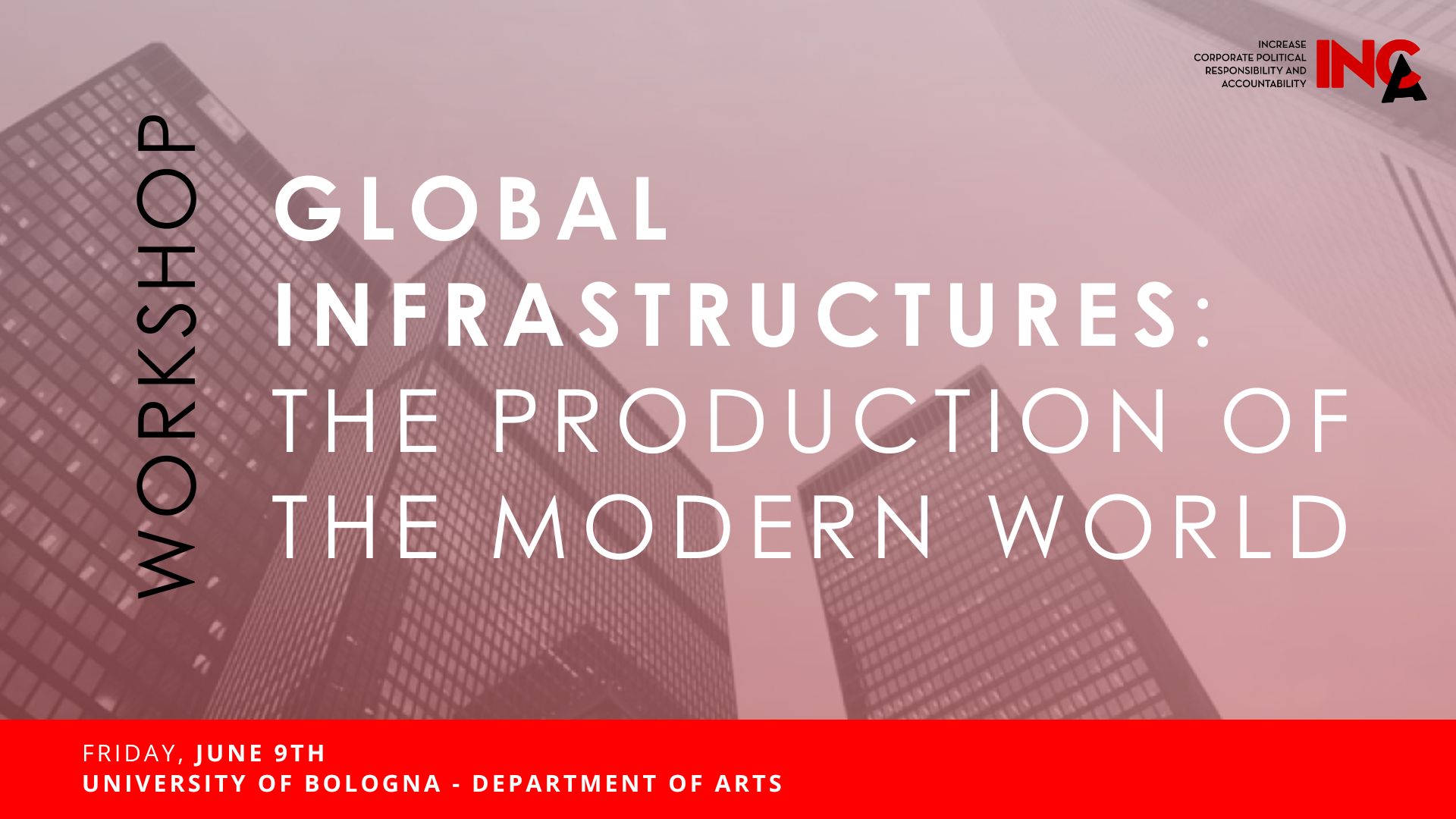 A collaborative workshop organized by the Institute of Contemporary History at Nova University, Lisbon, and the University of Bologna, Italy, will take place on the 9th of June 2023 at the University of Bologna in the Department of Arts.
In the last twenty years, in correspondence with the growing importance assumed by Global History, numerous studies have analysed past border-crossings and long-established transnational networks. This seminar intends to contribute to the discipline by promoting a collective investigation of the origins and development of global infrastructures, emphasizing how their construction interacted with colonial projects, capitalist ventures, and cultural superstructures.
The workshop will focus on questions such as:
What global infrastructures have contributed to the construction of the modern world and the establishment of a single world market?
Which public and private actors have participated to the construction and securing of global infrastructures?
What ecologies of labour have been mobilized during the erection of global infrastructures?
What forms of resistance and sabotage have opposed and slowed down the development of planetary infrastructures?
What has been the impact of climate change and the ecological crisis on global infrastructures?
How can the concept of infrastructure contribute to expand Marxist theories beyond the traditional distinction of economic structure and cultural superstructure?
How can historical approaches help us rethink the relation between global infrastructures and imperialism?
Program:
10-10.30 Welcome and Introduction
10.30-12.00 Imperial Infrastructures (Chair & Introduction: Franco Tomassoni, Colabor)
 Maria do Mar Gago (IHC – Nova Lisbon) – Botanical Networks as Imperial Infrastructures: Plantations and agro- ecology in Colonial Angola (1940-1961)
 Romario Sampaio Basilio (Nova Lisbon) – Failed Railways in El Dorado: Collaboration, Competition, and Scarcity in a Megaproject for the Amazonia-Guianas Remoteness (c.1870-1914)
 Emilio Distretti (University of Basilea) – The Coloniality of Infrastructure: Italian Imperial Highways in Libya and Ethiopia (title tbc)
12.00-13.30 Lunch Break
13.30-15.00 Oceanic Infrastructures (Chair & Introduction: Amedeo Policante, IHC-Nova Lisbon)
 Matteo Aria (La Sapienza) Navigational Infrastructures: Governing the Sea through Meteorological Prediction and Fo
 Erica Borg (King's College) Media Infrastructures: Coloniality, Capital Circulation and the Equiano Project
 Lorenzo Pezzani (University of Bologna) Title To Be Confirmed
15-15.30 Coffee Break
15.30-17 Digital Platforms as Infrastructures (Chair & Introduction: Mattia Frapporti, Unibo)
 Alina Kontareva (Alexander von Humboldt Institute for Internet and Society) and Martin Kenney (University of California, Davis) – Protecting Domestic Platform Infrastructure: How Russia Mitigated Dependence upon US West Coast Platform Giants
 Marco Marrone (University of Salento) – The Infrastructural Power of Digital Platforms
 Davide Blotta, Abdallah Hassan, Riccardo Sacco (University of Urbino) The camera is working! Making the migration infrastructure in Bosnia and Sudan.
17-18.00 Final Roundtable and Collective Discussion led by Sandro Mezzadra (Università di Bologna), Maurilio Pirone (Università di Bologna), Niccolò Cuppini (SUPSI) and Amedeo Policante (IHC-Nova Lisbon).