Exhibition: "Data is a relation, not a property"
May 5 @ 12:00 am

-

May 26 @ 12:00 am

CEST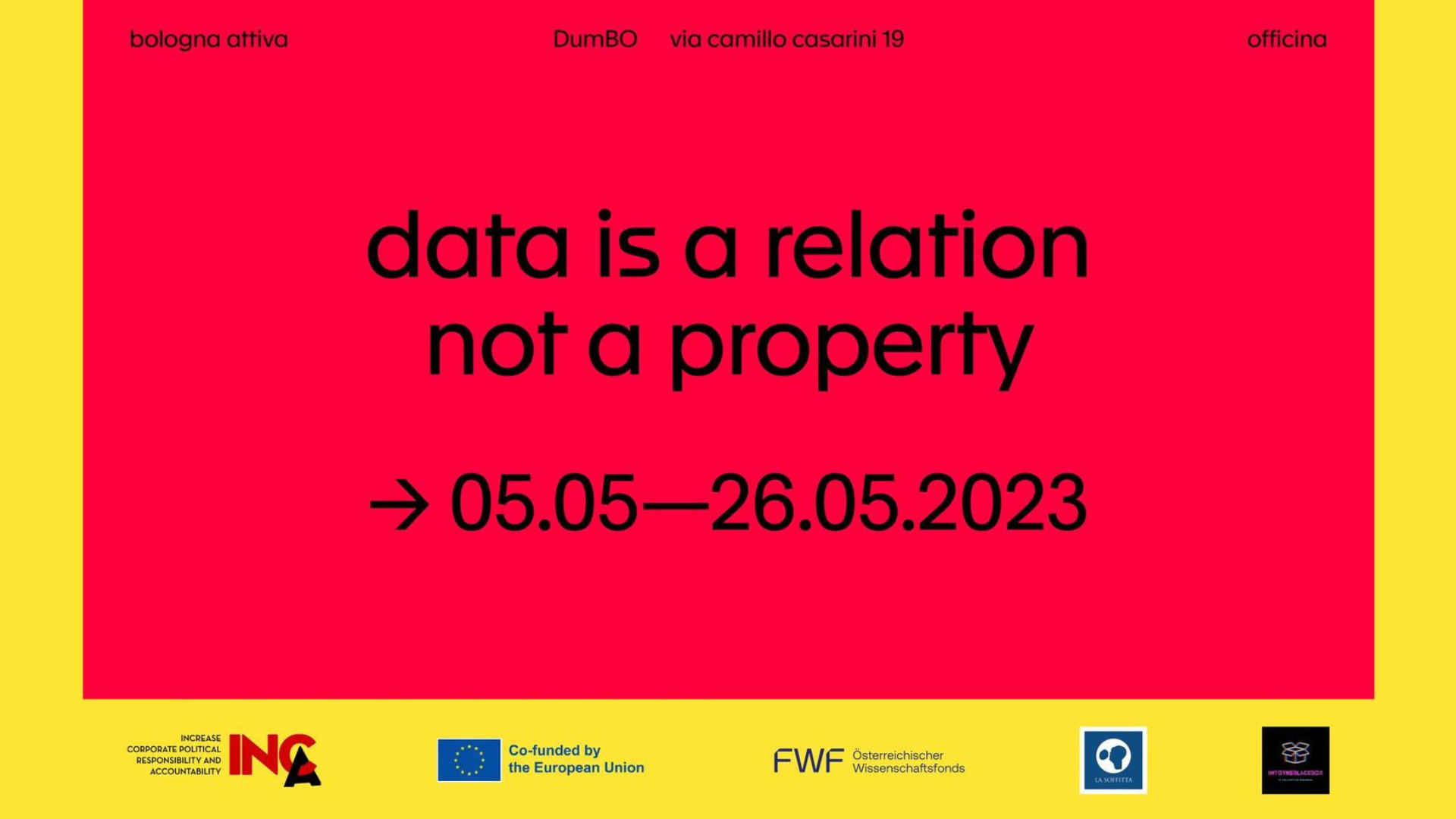 From 5 to 26 May 2023, in the spaces of Bologna Attiva at DumBO, the INCA partner Fondazione per L'innovazione Urbana host the exhibition "Data is a relation, not a property", presented in 2021 by the Austrian Pavilion Platform Austria at the Venice Architecture Biennale.
Data is a relation, not a property stages a polyphonic, profound and punctual account of the process of the 'flattening' of existence, with a specific look at so-called 'platform urbanism', i.e. the forms, dynamics and ways in which digital platforms transform the urban and its forms of life. It is a visual, textual, theoretical, artistic and research exploration that allows us to enter into the complexity, dynamics, tensions and trends of our platform-society, and contributes to creating a public space for reflection and discussion on some of the issues that affect the present of our city and contribute to designing its future.
Through a composite programme which, within the framework of the exhibition, provides for the organisation of different moments of encounter, this second life of Platform Austria will give space in particular to the deepening of the slogan "Data is a relationship, not a property", in order to open a public reflection on the construction of new and different data policies, and on the experimentation of alternatives to the privatisation of data.
The programme:
Friday 5 May, 16.00 – 17.30: workshop What about art and the digital? Tips and insights.
Carmen Hines (Technische Universität Wien) and Benjamin Gerdes (Royal Institute of Art in Stockholm) will lead this workshop, which aims to measure how contemporary art is being transformed in the maelstrom of digitalisation. Through the discussion and viewing of the works of some digital artists, a collective reasoning on this issue will be developed through the confrontation with heterogeneous artistic practices. Secondly, the workshop intends to reflect on how it is possible to rethink forms of art exhibition and curatorship in the light of the most recent technological transformations symbolised by Artificial Intelligence.
Friday 5 May, 6.30 pm: talk and opening of the exhibition "Data is a relation, not a property"
Peter Mörtenböck and Helge Mooshammer, Curators of Platform Austria and Professors at the Technische Universität Wien will open the exhibition with an introductory talk.
The talk will be in English with a presentation of the contents in Italian. Followed by an aperitif. Free admission.
Friday 26 May, 6 p.m.: Round table and closing Data as common. Possibilities, experimentations, risks.
Programme to be finalised.
The exhibition is open from Monday to Friday, 10 a.m. to 6 p.m., with free admission.
All events are held at the Officina shed in DumBO, via Casarini 19.